let's pretend the second part of this gif doesn't exist. if you don't
know what that is, ignore this text.
Alright, when I first heard about this, I was like, "hell yes. A tag that suits me in every single way." And I wasn't tagged. Oh well, I'm doing it anyway. I think blogging has really given me a thicker skin about the things I say but also made me more mindful about the
effects of the things I say
.
That being said, this tag is created for us bloggers to talk about the books that we may have liked/disliked while others felt the opposite. Going against the crowd used to be a scary thing. And I think that's all because the way we
think
others are going to judge us. A post by
Mishma
[+ friends] really brings some light onto that topic, if you want to read it. Loved that post!
Also, I didn't mean to, but some of these get quite ranty. Um, I guess it just happened? I am, after all, talking about the shit that bugs the crap out of me. Read at your own risk.
I don't like this series. I think when I initially read it, I was like "Daemon, omg!" [It was probably longer with alt codes and text speak. Don't judge a twelve year old teenybopper for her bad choices, alright?] Anyway, now that I think about it, Daemon is cookie cutter bad boy with
some
swoony lines but seeing as I've heard it all before, interesting bad boys are getting harder to find. I have a post on how to create the perfect bad boy too, if you're interested. Just check the search engine.
Alright, not
everyone
hates Paper Towns, as it's a pretty popular book. However, a lot of people that I know really hated it and when I told them I liked it, after reading, they were like, O____O. I think this is because I haven't read Looking for Alaska and if I had, I wouldn't like Paper Towns as much. John's writing is... strange. I don't know if I like it but for some random reason, Paper Towns got four stars.
Also, you have NO IDEA how difficult this was for me. If a majority hates a book, the odds of me hating it are really high too. I am also a really picky reader [this year, for some reason] and the amount of four or five star books it's pathetic. Paper Towns was the ONLY book I could think of.
I love Anita, I love this storyline. Heck, I even love the mean girl: Taelor [I forgot how to spell her name. I just know it sounds like Taylor but is spelled weird.] However, the ending of this book is just like in Cassandra's clockwork series. Disappointing. I feel a rant coming on - sorry guys, skip if you love this series and don't want to hear my complaints.
Alyssa, you
cannot
have BOTH of them. That makes no sense to me. How can you love one, say you'll spend the rest of your life with him [and do] but when he dies, go for the other guy? I know you might have a fear of being alone or whatever, but both these guys have feelings and in a real situation, I don't think any indecisive girl is worth the affection of two pretty wonderful guys. They can do better!
Also, it
might
be because of the way the "teams" were split up and the author was trying to make us all happy but I don't think the ending should've been done in a way where it sacrifices the tone. All through the first two books, we're like, "who's she gonna pick?" The whole "we're all winners!" attitude when dealing with two sides of the fandom seems wrong. I'm just saying - can you imagine being the one pining for the girl/guy? I don't know about you, but I wouldn't want a guy who will end up leaving me after I die for the next in line. Ugh.
And scene.
Fantasy.
And I know you might be like, "wtf Nova??????" with your many punctuation marks. To be fair, I have read quite a few fantasies this year alone but I don't reach for them. Without someone's recommendation, I probably won't read a fantasy on my own. For example, I won copies of all three Grisha books [by Leigh Bardugo] and they sat on my shelf for like a year, unread. I got a rec and read them all in one sitting. The same thing happened with ACOTAR. Won a copy and with the hype from the community, I read it. But books like Daughter of Smoke and Bone, which I own, are still unread. I never got a recommendation [personally] but they were cheap [8 bucks a hardcover] so I bought them.
Fantasy has never been my favorite. I don't know why. Maybe I'm too realistic for it, which probably isn't true because the past two fantasies I read were fabulous reads. I don't know - something about it just makes it not my first choice. Did you know that Penguin asked me if I wanted an ARC of The Wrath and the Dawn and I turned them down? I don't really regret it but I feel like it would've been interesting if I had accepted.
And what of the fantasies I make myself read? Well, The Sin Eater's Daughter was an example of such. I didn't get a rec, I just read it. And it got 0.5 stars. Whoops.
Augustus Waters is a dick. I hate him. Movie him was 'ight because it was Ansel Elgort but book him? UGHEDONEOINVIE AO #done.
He reminds me of that guy from The Suite Life of Zack and Cody that Maddie had to go out with during the twin convention. If you watched that show
religiously
often like I did, you would know what I'm talking about. [Basically, he's a weird guy who was like "did you know..." during dinner, spitting weird facts and being an obnoxious jerk.]
If you don't, here's an image.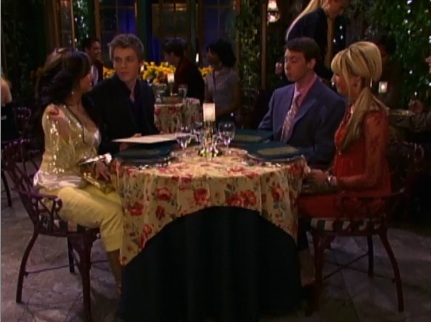 he's the dude on the right.
Anyway. Augustus Waters [book] , where do I start with you? Oh yeah,
not everything you say has to sound like a quote you put on Tumblr.
I bet you go home and memorize them so you can trick girls like Hazel into believing that you're charming! Also, you're pretentious and there's nothing attractive about you.
However, Movie Augustus, you just keep smiling because I do quite like your smile.
I've read two Ann Aguirre books and both of them were busts, unfortunately. I have no idea what it is! Both the books I read didn't have a well constructed plot, in my opinions and I couldn't really deal with the romance. It was blech. The characters were... alright in one but I hated the self-absorbed main character in Mortal Danger. She didn't grow at all.
What I am happy about, though, is that it isn't about Ann's writing. I haven't read her most popular: Enclave, so after reading that, I'll make the final call. I'm hoping that one will be amazing.
Here's the situation:
insecure girl and boy are dating after all the crap it took over the course of about 75% of the book. in five seconds, the girl sees the boy and another girl [typically, the girl's enemy] in a compromising position. The girl flees, refusing to listen to the boy as both of them become zombies, figuratively speaking. After their friends getting involved and some kind of trickery, the two are forced to speak and come to terms while the boy explains that it was a misunderstanding. Also they ride off into the sunset while riding a frickin' stallion.
Was that a lot to take in or what? And it's specific, no? The last part was sarcastic. Fine, maybe sometimes the friends won't get involved or one person will take the initiative to talk to the other but I've seen this plotline so many freaking times. Usually, it's in wattpad books but I have started to see it in published ones too!
First, if a guy and girl are in a compromising position and you spent 75% of the novel trying to make things work, why would you let something like this break all that trust you spent building? At least hear the guy out first! And THEN react.
Next, why is it that the guy has a perfect excuse each time. "She was coming onto me!" isn't good enough. The chances of a girl coming onto a taken guy with the guy not reacting is so slim. And if she was, you should use your brain and do something about it, not stand there gaping like a fish while the girl you love runs out crying. The hell, man?
Also, I read this one where the guy was like, "I smelled vanilla and I thought it was your body spray. The lights were out and when she started kissing me, I thought it was you!" BISH PLEASE. HOW DO YOU MISTAKE YOUR SUPPOSED "LOVE" FOR SOME RANDOM??? HUH HUH HUH???
*drop the mic*
The movie was meh. I didn't really like it but I don't think it was the worst movie ever made. No, that spot still goes to Percy Jackson. I cry.
I don't know. There's just something about vampires that really turns me off. I don't think they're sexy or even cool. They're just really fast and they suck blood. Also immortality. So what? Big whoop. But can they lick their own elbow? That is the question.
[I also have no interest in reading about angels so sorry Becca Fitzpatrick and Lauren Kate.]
The first episode of The 100 was pretty bad. I watched it when it first came out. I wasn't impressed at all and it seemed like all angst and no plot. Octavia annoyed the everything out of me and I wished it was her with the spear and not Jasper. [Also, how the hell did Jasper survive????]
I stopped watching the show entirely until half of the second season was out. I didn't realize that everyone on twitter was talking about it. So I gave it another chance, based on peoples' recs. I still didn't really like it but it was getting better. But holy shit, the second season will terrify you and it will make you love it.
This show takes risks. There are a lot of things that are cringe-worthy about the scenes [in terms of how graphic they are.] Plus, the female characterization is so strong and Octavia has the most impressive character arc in the story, in my opinion.
Now how does that compare with the book, hmm?? The book is a lot shorter than 2 seasons, each episode being 40 minutes. That being said, the characterization is going to be stunted and a lot less happens, ergo, the show is miles better.
[Haha, I used the word, ergo.]
I loved this tag! It was so much fun to do. Now it's your turn. I tag each and every one of you, because I'm still salty about not being tagged lolol. However, let me know which ones you agree with. Which ones you totally can't accept and would shame me to the ends of the blogosphere for. [Seriously though.]