I've been blogging for a good _ years and a while back, I tweeted out:
guys i got invited to 2 publisher previews in august. like i've been blogging 3 years and this is the first times. i made it.

— Novacaine (@NovaBlogder) July 24, 2015
And now that I've been to one, I feel like I've been missing out all my life. A few days ago, I saw someone tweet that an event like this was like Disney World for bloggers. I didn't understand until after, when I was like, "the person who tweeted that is a genius."
The front of the office has this. I THINK IT ROCKS.
Like when I go to author events, I'm pretty bad at describing the actual event. We started off getting food. Mmm food. There were donuts, cookies, candy, chocolate, twizzlers and cupcakes. I was basically like: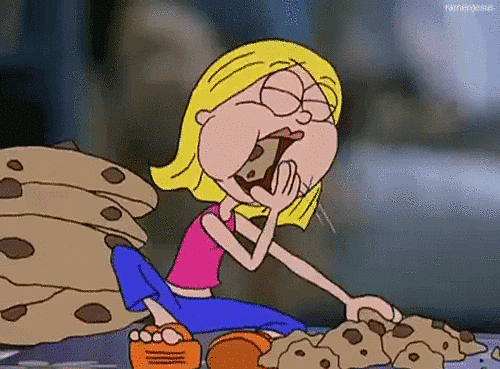 Actually, no I wasn't. I was too insecure to get a donut but the blogger beside me was encouraging so you know what? I got the donut. And I loved it. [See, I'm not even talking about the event. I'm talking about donuts. My recap skills are not on point.]
okay. six of crows is NOT under-rated,
but i literally could not think of anything!
Frenzy Presents was basically the lovely ladies of HCC Frenzy [think Canadian version of Epic Reads but entirely awesome in their ow, unique way!] introducing eleven of their fall titles. Included are
The Unquiet
,
Dumplin
',
This May Sound Crazy
,
A Step Towards Falling
,
The Rest of Us Just Live Here
,
A Madness So Discreet
,
Ice Like Fire
,
World of Ink and Shadow
,
Glass Sword
,
The Lifeboat Clique
and
This is Where the World Ends
.
Dumplin' 'n' I.
The Unquiet -
YO THIS ONE LOOKS SO GOOD. I cannot believe this was not on my radar. Murders? Callous characters? NOVA BOOK. NOVA BOOK. [What does this say about me??]
Dumplin' -
But honestly, who isn't excited about this one? This is the book to counter the service a girl like me gets when I step in a Brandy Melville.
The Rest of Us Just Live Here -
I did complain years ago that Harry Potter started this trend of "chosen ones" so the idea of writing about the ordinary people who typically get left behind is
genius
. Much excitement!
A Madness So Discreet -
*unintelligible pterydactyl screech*
Ice Like Fire -
See one above. Seriously - I am a huge fan. Sara, you are <333
World of Ink and Shadow -
It's interesting because I arrived about half an hour early to the event. There were only two other people. I'd assumed they were both bloggers however, one was the author of this book herself. The funny part was that I talked normally [well as normal as I can be] to both of them until I found out. Then I got a little starstruck because
author.
[Let's leave out the fact that I asked her what her blog was because I didn't know. Whoops.] Hearing Lena talk about her book was really awesome, though! I haven't read about the Brontes but now I want to!
The Lifeboat Clique -
This one was "Mean Girls meets Life of Pi." Something about that speaks to me. It reminds me of being at a very uncomfortable party and wanting to leave but noooope, I'm stuck in the middle of the ocean. Also, listen to
this song
, it reminds me of this book even though I haven't even read the book.
another display of books. BOOOOOKS.
After the presentation finished, all the bloggers just spent the time talking to each other. This is where awkward pegacorn Nova comes in.
I knew like two people and they were talking to people I didn't know.
I was thinking, "Oh no. This is hell" because no one is going to just jump and talk to a random person. That's the problem with being the new kid, right? However, something must've given me strength because I talked to a bunch of bloggers who are awesome and they made me feel less awkward. Gosh, I wish I could mention all of them but there are so many!
Here's a group photo:
Guys. I know it looks like my eyes are closed by they aren't. I'm laughing so hard at this. You can also find a group photo of ALL the bloggers
here
. [In that photo, I look awkward because I'm on the end and I don't even know what I'm doing. Guess who
isn't
a selfie queen?]
I enjoyed meeting bloggers close to me area-wise and talking about books and also meet each other. While it's awesome to make friends with bloggers from around the world, it's also so cool to meet bloggers in person and just talk about stuff we'd discuss on twitter, in person! I've seen a lot of these bloggers on twitter and instagram and it's so cool to meet them, get their business cards and follow each other on our social media!
These are flowers made of PAPER. Much artsy.
Also, a view of the city life.
There was also a contest for Dumplin! Do the #DumplinPose to win an ARC! Honestly, regardless of the contest, you should do the Dumplin Pose! It's therapeutic. It's just so much of a confidence booster to not care about what you look like and have fun! We also got to wear a tiara but you can't see mine because I tilted my hair too far back.
— Novacaine (@NovaBlogder) August 9, 2015
Now, here's the absolutely
crazy
part. As if inviting us to an awesome event isn't enough, we also left with a gift bag full of the best things. When I was younger, I would go to birthday parties and there would be loot bags. Usually, these were dollar store items and I would be ecstatic to have a sparkly bead necklace. I don't go to birthday parties anymore but I was no less ecstatic for Harper's loot bags. They know how to do it ;)
In three... two... one...
There are so many things, so if you can't see [because it was hard to get everything in the shot,] I'm going to list.
ARCs of The Leveller, A Madness So Discreet and The Unquiet.
Chapter samplers of This May Sound Crazy, Color Me Creative and Demon Road.
Epic Reads magazine-type book. It really is epic.
Dumplin' cardboard
Red Queen Poster
Frenzy Presents recap of the titles.
Geek Girl glasses.
Various Buttons.

Click image and drag to a new tab for a better image.
Last minute selfie spam! I like the first one because when you open it full screen, I look like I have eyelashes. The second one because my right eye is rocking the winged 'liner.
So how are my recap skills? I took a lot of pictures! I didn't even realize until after. Whoops. Did you feel like you were there with me? Because I certainly felt like I was back at the event while writing this. Being in a room full of people who love the same things you do - it's awesome! Have you ever been to an event like this? Do you want to? What would've been your fave part?