This post isn't about books but you know what? That's alright! Plus, The Shadowhunters/The 100 TV Shows are BASED off books so
technically
, this is still a book post.
During the year, my time is usually spent reading and finding new music to listen to. I still have a goal to get 1000 [good] songs on my iTunes. However, during the summer, I turn to binge watching tv shows as a source of entertainment.
The way it usually goes is that I do something on the computer and then I listen to the show while I work. For example, right now, I'm writing this while listening/watching to Orange Is The New Black. Every so often, I'll go to the Netflix tab and watch if something interesting is happen that has to be seen [like the scene with Pennsatucky on top of the wheelchair girl - where my OITNB
frands
?]
I really like TV because like books, I don't only watch a specific genre. Want me to watch a sci-fi thriller? I'm down. And a cartoon from the 2000's? COUNT ME IN! [Seriously, those were the thing.]
Nowwwwwww...
I would like to make a list of TV shows I want to rec and another list for the ones that I haven't watched.
By the end of summer, I'll have hoped to finish some of these. It's just all about watching as much TV as I can. Yeah, I know, this doesn't accomplish anything but sometimes we just gotta to do things for the fun of it!
2000's Disney Shows -
I felt like I would group all of these together. When I'm talking about this, I mean like Hannah Montana, Suite Life, That's So Raven etc. Basically, all the shows on Disney before Disney went to hell. Other shows include the animated ones [which were my life] like American Dragon, Lilo and Stitch the Series and Kim Possible. I've seen all of these shows multiple times but this summer,
it's time for a rewatch
.
Switched At Birth -
I'm actually not the one binging this one. My mom and sister have gotten hooked on it and I stayed to watch a few episodes too. What I thought was really interesting was how it's got a lot of themes about deaf people. I've never seen a show where deaf people and sign language are so integrated in the plot. It was awesome - plus I picked up on a few signs myself! [I can do my name now! YAY!]
Skins -
I'm halfway through this one but you would have to watch this one to figure out if you would like it. I don't want to say ANYTHING about anytime I say anything, people judge it so quickly from what they
think
it is. Basically, this is a show that has a lot of mature themes but it's got a lot of realistic themes and it's British so I liked the little bits of culture.
Hey, if you watch Sense8 or Orange Is The New Black, this shouldn't make you flinch.
Gossip Girl
-
Gossip Girl Syndrome is something I've mentioned in a review. It's basically the feeling I got while watching Gossip Girl:
"This show isn't good - it's full of dramatic teens and stupid situations. It's awful! Let's play the next episode."
For a mindless TV show, I loved Gossip Girl even though I really disliked some of the characters *cough* Jenny and Serena. I guess the tagline, "You know you love me" rings true because damn, I did love you. Even though you frustrated me so often.
trust me when I say this isn't a spoiler.
The 100 -
Oh The 100. If you were on Twitter every Wednesday during the beginning/middle of the year, you might've seen the crapload of live tweets about The 100. Personally, it means that I have to stay off because I get the episode the next day when Netflix uploads the episode.
This show is just awesome. Unlike anything I've ever seen. The first season is rocky but a lot of shows are like that. The second is dark. Darker than I thought shows would go but it takes risks and I admire that. Plus, I was on the edge of my seat the whole time!
Heroes -
Heroes is a sci-fi about a group of people who all get super powers. It goes on for 4 seasons which I like because it wasn't too lengthy and it wasn't too short. I really enjoyed it because all these people hailed from around the world and the fact that they all met up eventually was really interesting.
It also plays on the "what makes a villain?" the entire four seasons about one specific character who's so complex. I loved how evil he was and how he wasn't evil and how it was a constant battle between choosing good and evil.
FRIENDS -
Do I even NEED to explain this one? Friends is a beautiful show - it's funny and interesting and you will ship x and x [you'll get it by the 9th season.] Trust me - watch this one.
Teen Titans -
NOT the newest one. I feel like I have to be clear. The new Teen Titans GO! is quite honestly a fail in comparison to the original. Teen Titans has the perfect element of friendship, humor, oh and butt-kicking. There is a colossal amount of butt-kicking that made me so happy. Each character has such a distinct personality and while the episodes don't really connect, there's an overall theme to the season. I think each of the five characters has a personal villain, except one.
Warning: the original series is amazing but it ends really badly because they never made another season. Seriously, if you liked it as much as I did, you will get your heart ripped out at the "ending."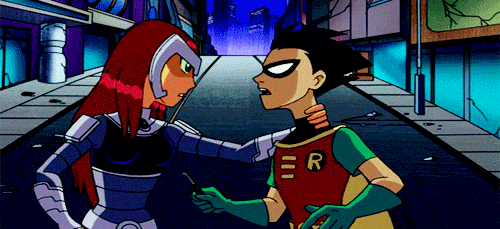 tbh the only reason i watch this [jk]
Well that's good enough - but guys, for realsies if you need some more, let me know. I don't watch kdramas [I should] but I pretty much watch everything else that's limited to English. It's because it's too difficult to
listen
to a kdrama. I would have to watch and read the subtitles.
Here's a list of shows I hope to watch [or rewatch!] by the end of summer. I'll be writing up a post at the end of summer as a recap too!
Kim Possible [rewatch]
Dragon Booster [rewatch]
Orange Is The New Black
Sense8
Newest season of Once Upon A Time
Teen Wolf
Lilo and Stitch the Series [rewatch]
Cyberchase [I LOVE this show.]
American Horror Story
Arrow
Skins [I'm halfway through this one]
Gossip Girl [I gave up halfway through season 5 but now I want to FINISH it!]
Pretty Little Liars [I'm iffy on this one so I
might
not watch it.]
Veronica Mars [rewatch]
Friday Night Lights? [Is this one good? I heard recs but idk]
I'm obviously not going to be able to watch all of these but I'll definitely try! Did I miss anything? What shows do you like? What shows DON'T you like? Don't let me watch a really bad show!