Title:
Emmy and Oliver
Author:
Robin Benway
Pub Date:
June 23rd, 2015
Publisher:
HarperTeen
Page Count:
352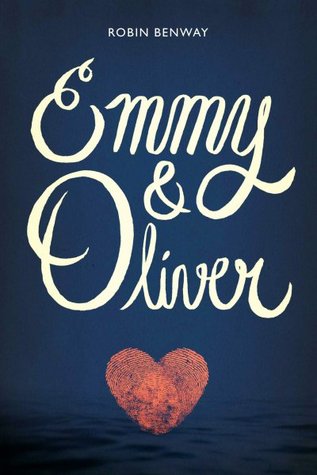 Emmy's best friend, Oliver, reappears after being kidnapped by his father ten years ago. Emmy hopes to pick up their relationship right where it left off. Are they destined to be together? Or has fate irreparably driven them apart?

Emmy just wants to be in charge of her own life.

She wants to stay out late, surf her favorite beach—go anywhere without her parents' relentless worrying. But Emmy's parents can't seem to let her grow up—not since the day Oliver disappeared.

Oliver needs a moment to figure out his heart.

He'd thought, all these years, that his dad was the good guy. He never knew that it was his father who kidnapped him and kept him on the run. Discovering it, and finding himself returned to his old hometown, all at once, has his heart racing and his thoughts swirling.

Emmy and Oliver were going to be best friends forever, or maybe even more, before their futures were ripped apart. In Emmy's soul, despite the space and time between them, their connection has never been severed. But is their story still written in the stars? Or are their hearts like the pieces of two different puzzles—impossible to fit together?

Readers who love Sarah Dessen will tear through these pages with hearts in throats as Emmy and Oliver struggle to face the messy, confusing consequences of Oliver's father's crime. Full of romance, coming-of-age emotion, and heartache, these two equally compelling characters create an unforgettable story.
Yeah, so if this book were a movie, it would -wait for it- ...win an
emmy
. - Nova @ Out of Time
Aside from the terrible pun, I can wholeheartedly say that I really enjoyed this book. There was a lot of hype circling it when it first released and what caused me to shy away was the genre. I typically don't gravitate towards contemporary - not that I don't like it, but because it 100%
has
to give me feels in order for it to be a hit. This book completely hit that mark and I closed it with tears of happiness.
All
the happiness.
There seems to be this trend in YA where the parents aren't part of the character's lives. While this might be true to some, it is definitely untrue in a lot of cases. Emmy and Oliver was a great example of a book where the parents' involvement in the main character's life is so important.
After Oliver gets kidnapped, all the parents start to become overprotective which is a huge theme that carries on throughout the book. Emmy resorts to lying and hiding things from her parents because she knows her parents wouldn't approve. I really understand her character throughout, having been in situations like that myself. My life consists of a parent being in the house at all times. Seriously, when they both go out, I turn the music way loud and do karaoke because it's the only time I don't feel suffocated. However, just like Emmy, I had to realize that our parents always mean the best and even though they don't always show it, they love us.
This book was so feel good. Everyone learns something - everyone goes through growth; and that's the way it should be. Even the secondary characters who came in and out of the main plot were so well rounded and real. I loved them so much even though it was obvious that the focus was on Emmy and Oliver [hence the title.] I teared up in so many instances because this book is so touching. Gosh, I'm tearing up as I write this.
In terms of writing, everything was so excellent. All of it felt so real. The mannerisms of the teenagers were so perfectly done. The dialogue was great and being in the character's head - stellar. I especially loved how Emmy and Oliver snuck behind their parents' backs and then also had to pay the consequences for it. So often, teenagers in books will do reckless stuff and I always question why there isn't a punishment. No one
wants
punishment but it's a reinforcement on the strong parental figures.
The romance? It was cute and a little insecure at first but that's what was great. Oliver isn't this cocky jerk and Emmy wasn't some "good girl." This relationship was built on two people who had unique personalities and interests, rather than stereotypes. On introduction, they seemed very straightforward - Emmy likes surfing and Oliver watches old movies but then you dig deeper and realize that both of them have fears, hopes and dreams and they're evident in the book. These characters aren't infallible and are very much human. It's almost a silly thing to note - aren't they
supposed
to be human? Yes, but I've read a lot of books with characters who are either too perfect or too robotic and this book just knocked those out.
I have to say that this book related to me on a personal level. I didn't expect to love it or connect to it so well. I've read reviews of people who say that it's good but not worth the hype. I don't know if I can agree/disagree with that. I think it's all about how well you can connect with the idea of either being like Emmy with overcontrolling parents or Oliver, who has so much confusion on his life and where he fits in. Regardless, I would definitely give this one a chance. I wish someone rec'd it to me but I'm glad I've read it now!

I'm the author of "Audrey, Wait!", "The Extraordinary Secrets of April, May & June", and the AKA series. My latest book "Emmy & Oliver" will be released on June 23, 2015. I live in Los Angeles with my extremely stubborn shih tzu, Hudson. I like cooking, puppies, and coffee, but not in that order. We should be friends.