Book to Movie Adaptations
There are two sides of this coin, so not to discredit the good ones, but because this is a rant, I am not focusing on the positive. Sorry, not sorry.
In terms of good book to movie adaptations, let me just mention Harry Potter (um, all of them!) and most recently, Catching Fire. Nothing else comes to mind. Everything else I've seen?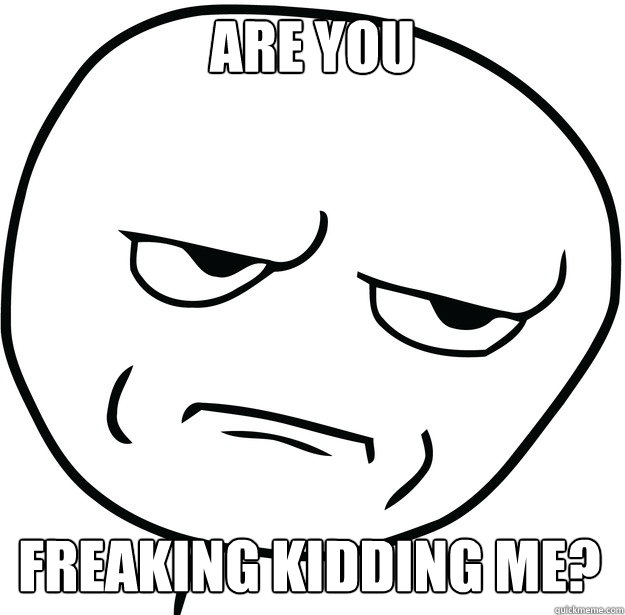 Do movie companies literally go: we have no more ideas! Oh, these books are doing so well on the market; let's make them into movies!
And of course, the author is ecstatic because who wouldn't be? What would you do if your book was made into a movie? So author's happy, book has a fanbase that'll pay to see the movie so the company is happy. Everyone is f*cking happy; until they see the goddamn movie. And that's when the guns come out. (Well really, it's more us on computers writing angry letters, but don't underestimate the power of the book nerds.)
Do the companies even READ the book? Do they just hear about the idea and start turning a masterpiece into a two year old's work? I can't...
"Oh, but what if we..."
"Hmm... wouldn't it be cool if we..."
"You can change this and then change that and everything'll be fine..."
My response?
Let me go down the line of book to movies that made me:
The Mortal Instruments: City of Bones
Can I just say that I was super excited for this movie that turned out to be so stupid and a let down. I expected something that was badass and paired with the book. Thanks Hollywood, for f*cking up my love for this series. The lines were so bad, I cringed. Cringed. How about the romance? I have better romance with my dog and I don't even HAVE a dog. So correction: my friend A, has better romance with her dog. And the worst part is that I LOVED the actors, but this movie killed me. And not in a good way.
Screw you, Hollywood, screw you.
Percy Jackson
If you're someone who liked Percy Jackson, it either means you haven't read the books or you aren't a diehard fan who doesn't care. I'm cool with both (opinions, opinions), but I'm neither.
In Percy Jackson (both), the directors chose the cast by playing a game of Mash. And they thought of the plot by reading the synopsis and having a monkey as a consultant. That's how bad it was. If you haven't seen it, go have fun. Bring something to bite down and muffle your screams on, though. And let's appreciate how much this movie stayed true to the book... oh wait.
Note: this is an opinion/sarcasm, don't actually take what I'm saying as a definite fact.


Beautiful Creatures
I actually didn't read the whole book and from what I've been told, it's still terrible.
Okay, Beautiful Creatures didn't get any promo. Freaking Mortal Instruments got a MALL TOUR. And it was still a terrible movie. Beautiful Creatures didn't get anything but a few trailers and posters from what I saw. I only heard about it on twitter, from a few lovers and a few ranters...
This one I'm
less
touchy on because I'm not really a fan of the books. But the movie was dumb and plotless and just no. The romance killed me because it was awkward and made me
feel
awkward. I only got to half of the book, but even I know that they screwed around with a bunch of the plot. As if that was necessary.
UPCOMING
Divergent.
Can I tell you how
excited
I am for Divergent? Props to the people who got that sarcasm. Yeah.
Divergent looks a little weird. I'm sorry, but it does. Every initiate (save Tris) looks out of place. Peter is
way
too old and isn't even attractive *cue pout*. Four is freaking 25, thanks. And he's got a
British
accent; what the f*ck?And then how's Eric supposed to be the youngest Dauntless Leader if he's the same age? They're starting to screw the logic and it's making Nova:
I am actually VERY touchy on Divergent because I've read it like 40 times. I was
hoping
it would stay true to the book, but with the weirdly done romance and the accents and bad casting, I don't even know anymore. The trailers were badly explained to people who haven't read the book. Just no. And from what the stills look like and what I know about these book to movie things, I'm expecting something worse that Twilight. I'm a pessimist, kill me. Of course, I have to see the movie (which I will) to have a final judge, but these are just pre-thoughts.
So yeah. This is what I think about Book to Movie Adaptations in a rant. Hope you liked it and I'll try to do more in the future. There's a lot of Bitchy Nova to go around on this blog. Wonderful.